eHAZOP Manager
1.0 INTRODUCTION
eHAZOP Manager© is an on line system to support eHAZOP (or  SAFOP) studies. The system has been developed to support end client, design contractor and other needs (eg
Technical Secretary) across all study phases :

eHAZOP Study Phases
The functionality developed extends that available in desktop software, and in addition, includes a number of unique features only possible using on line software. Moreover, the system has also been designed to maintain the windows 'look-n-feel' that the electrical engineering community are accustomed to using in eHAZOP studies.
2.0 eHAZOP MANAGER© FUNCTIONALITY AND FEATURES

Key functionality includes :
Study Phase
eHAZOP Manager Functionality
1. Study Planning/ set up
1. Guidewords/Promptwords and Electrical System nodes data base set up. Content may be reviewed/modified with the client.
2. Worksheet set ups: Design, Installation, Operating, and where appropriate, Philosphy and Network studies
3. Different worksheet configurations  for different studies. Worksheets may be customised to client requirements eg frequency/consequence assessments, SIL assessments
2. Study Execution
4. Ensure each deviation (promptword) is linked to consequence and that current safeguards are captured and their adequacy evaluated.
5. Action items are structured into key categories (eg recommend, consider, review, confirm etc) and asigned to nominated action parties
6. The ability to copy discussion text to facilitate easy/quick entry of multiple recommendations per discussion item
7. A line item referencing system to permit issues/action items to be tracked. Each action item is uniquely identifiable/referenced
8. The option of prioritising line items through evaluating frequency and impacts (severity) and quantification of risk
3. Action Item Review & Finalisation
9. Study Action Items are assigned PROPOSED Action status. Authorised contractors/clients then have the opportunity to REVIEW Action Items in real time and provide comments/feedback
10. The report approval authority can then review all comments and develop a set of APPROVED (or final) Action Items
11. Where APPROVED Actions differ from PROPOSED Actions (Content or Action Party), Authorised Contractors record the rationale for the status change by completing the associated text box (thereby providing a logic trail for modifications and changes)
12. Provision of management reports to :
i. Analyse approved actions to understand close out implications and extract learnings to guide future projects
ii. Confirm resources are adequate to complete APPROVED Actions by the estimated completion date
iii. Review changes to recommendation status, particularly where PROPOSED Actions are downgraded
4. Action Item Implementation Tracking and close out
13. Configuration of the implementation and tracking process Implementation,
i. Set review frequencies Tracking and
ii. Set amber (A) and red (R) status change thresholds Close Out
iii. Assign status review responsibilities
14. Action parties periodically update the current status of each action item assigned to them :
i. Blue = Action Item Closed Out
ii. Green = Action Item On Track (current estimated completion date <= original estimated completion date + A )
iii. Amber = Action item Off Track (current estimated completion date > original estimated completion date by > A but < R
iv. Red = Action item Significantly Off Track (current estimated completion date > = original estimated completion date + R
15. The provision of management reports to track the progress/slippage/close out of action items (by equipment type, guideword, action party, priority etc) and co-ordinate the overall recommendation implementation process

Five eHAZOP Manager system access levels are provided :
Level 1. System Administration Authority to permit client set up, guideword promptword set  up, nodes set up etc.
Level 2. Data Entry Authority to capture ESR study team deliberations including proposed  action items. Commonly assigned to Study Secretaries.
Level 3. Review Worksheets Authority. Authorised persons provide comments/feedback on worksheets for review by worksheet Approval Authority.
Level 4. Action Item Approval Authority to enable authorised persons to prepare a list of approved action items.
Level 5. Action Item Implementation Status Authority to enable authorised persons to update the status of approved Action Items.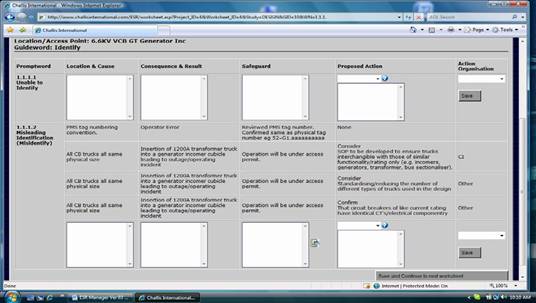 6.0 FURTHER INFORMATION

Please contact : Dr David Challis